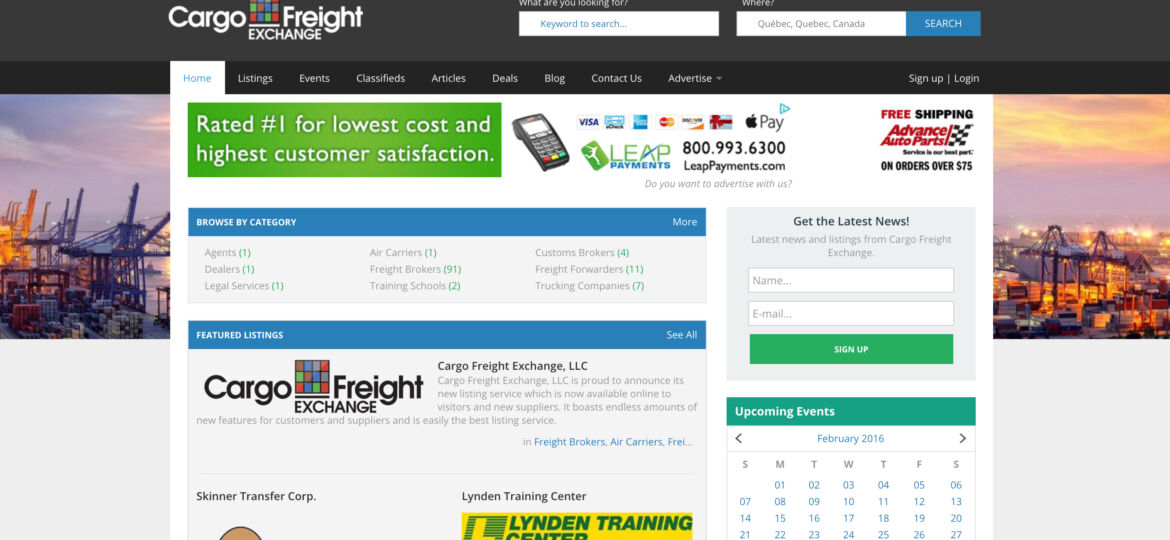 [av_textblock size=" font_color=" color=" av-medium-font-size=" av-small-font-size=" av-mini-font-size=" custom_class=" admin_preview_bg="]
UPDATE (9/23/17):  Over the last few weeks we have been upgrading Freight Broker Reviews and re-branding the site to be Cargo Freight Exchange (cargofreightexchange.net).  The new site will be more inclusive to all professionals in the logistics industry and those businesses supporting the logistics industry.  The new re-branded site will have many more useful features and will be live within a couple of weeks.  If you'd like to be updated of when the new site is live, sign up for our newsletter here.

We are happy to get our new Freight Broker Review Website up and running, freightbrokerreviews.net. Freight Brokers, Carriers and Shippers have difficulty finding the right people to do business with. Freight Broker Reviews was built to aide businesses in finding the good companies. The site also works as a registry of shippers, brokers and carriers to help everyone in the industry find people in their area or other areas that they may be searching.

[/av_textblock]
[av_hr class='default' height='50' shadow='no-shadow' position='center' custom_border='av-border-thin' custom_width='50px' custom_border_color=" custom_margin_top='30px' custom_margin_bottom='30px' icon_select='yes' custom_icon_color=" icon='ue808′]
[av_image src='https://maxwebsitedesign.com/wp-content/uploads/2015/08/Home-Page-2016-02-29-11-12-27-1030×503.jpg' attachment='941′ attachment_size='large' align='center' styling=" hover=" link='manually,https://www.cargofreightexchange.net' target='_blank' caption=" font_size=" appearance=" overlay_opacity='0.4′ overlay_color='#000000′ overlay_text_color='#ffffff' animation='no-animation'][/av_image]